Dragan Zdravković
Born in 1969 in Belgrade.
MFA – Faculty of Fine Arts, University of Arts in Belgrade, 1999.
BFA – Faculty of Fine Arts, University of Arts in Belgrade, 1994.
PhD (D.f.A. doctoral studies in fine arts) – Faculty of Contemporary Arts (Mentor Acd. prof. V. Velickovic), Belgrade, 2018.
Exhibited his work in twenty three personal exhibitions and over 65 group shows, also participated in many workshops.
He taught painting as full-time professor (painting)
at the Academy of Fine Arts in Belgrade since 2000 till 2014.
Member of Serbian Fine Artists Association (ULUS) since 1996.
International commissioner at 3 rd International
Engraving Biennial of Douro, Portugal.
He is a founding member and lecturer of a nongovernmental organization for international student exchange CMUS (Center for
International Studies of Art) www.outsideproject.org
He taught painting (as visiting professor) at the SACI -Studio Art Centers International – New York – Florence.
He was a founding member of manifestation"Open Studios Night", Belgrade.
Member of art council of "Gallery 73", Belgrade, 2007-2013.
He led a painting workshop entitled "Cultural Heritage: Byzantine Icon" in Belgrade's Gallery of Frescoes, this program was organized for students of the Studio Art Centers International (SACI), New York – Florence.
His works are part of several museum, public & private collections:
Museum of Contemporary Art Belgrade (MoCAB), RS;
Christen Sveaas Art Foundation, Oslo, NO;
Museu do Douro (Portugal);
Madlena Zepter art collection/int.;
Sasha Marceta Foundation, Belgrade, RS;
National Museum, Vranje, RS;
LIA – Lepizig International Art-Programme, DE;
and in private collections in Berlin (W&A Schlag), Lepizig (Lenzer), Zurich (Schlatter), Vienna (Zepter, Graf…), Belgrade…
He is a represented artist by the "White8 Gallery" (Vienna/Villach)
Currently lives in Belgrade, works as an Assistant Professor /dep: painting & drawing/ University of Arts, Faculty of Applied Arts – Belgrade.
Selected exhibitions :
2020. "Reflections of our time: Acquisitions of the Museum of Contemporary Art 1993-2019", MoCAB, Belgrade, RS
2019. "2-B", Peter Aerschmann (CH) & Draga Zdravkovic (RS), Swiss Embassy Residence, Belgrade, RS.
2019. "STAYING HERE WITH YOU", curated by: Esther Jungo & Ksenija Samardžija, Cinema Balkan, Belgrade, RS.
2019. "OUVERTURE", curator: Remigio David, Altro Mondo Creative Space, Makati City, Manila, Philippines.
2019. "Scepanovic/Zdravkovic/Grubanov/Peric", curator: S. Obradinovic, Gallery Beograd, RS.
2019. Annual Exhibition of Faculty of Contemporary Art, Vitamin X Gallery, Belgrade, RS.
2018. "HOMO INTERIOR", artists: Nicola Samori (IT), Radenko Milak (BA) and Dragan Zdravkovic (RS), Italian Culture Institute, curated by: Ksenija Samardžija, Belgrade, RS.
2018. The Autumn Salon, ULUS (Association of Serbian Fine Artists), Pavilion Cvijeta Zuzoric, Belgrade, RS.
2018. "FPU – 70 years of Faculty of Applied Arts", Belgrade City Museum, Belgrade, RS.
2017. "ENCLAVIA – Painting, a Consequence of This Kind of Life", 57. La Biennale di Venezia, artists: Milena Dragicevic (GB), Vladislav Scepanovic (RS) & Dragan Zdravkovic (RS), curator: Nikola Suica (RS), Pavilion of the Republic of Serbia, Giardini, Venice, IT
2017. "Operation Unthinkable: Enclave as power, fear and place" – painting – curator: Alexandra Lazar, Drina Gallery, Beograd, RS. (solo exhibition)
2017. LDF gala auction/exhibition, organized for supporting efforts of Leonardo Di Caprio Foundation; Curated by: Lisa Chiff (NY); Realization by: de PURY (NY); Donated painting: D.Zdravkovic: NWO Lines, oil on linen, 120 x 90 cm, LDF, 2003.
2017. Autumn Exhibition, ULUS (Association of Serbian Fine Artists), Pavilion Cvijeta Zuzoric, Belgrade, RS.
2017. "EKVILIBRIUM / New Art as Evidence Material of Nowadays" – group exhibition, 8 authors, Association Blanc/Blank, Luka Beograd, Belgrade, RS.
2016. "HIBERNATION MODE" – paintings – curator: Misela Blanusa, Salon of the Museum of Contemporary Art (MoCAB) – Belgrade, RS. (solo exhibition)
2016. "International Triennial of Expanded Art Media" / theme: Focus Rewind curated by Nenad Glisic / – Art Pavilion Cvijeta Zuzoric, Belgrade, RS.
2016. "HIBERNATION MODE" – paintings – Gallery of Contemporary Art – Pancevo, RS. (solo exhibition)
2016. "Like There Is No Tomorrow" – group exhibition, 6 authors, DRINA Contemporary Art Gallery, Belgrade, RS.
2015. "The 5th Biennial" – Gallery of the National Museum – Vranje, RS.
2015. "NEAR and FAR 1914-1918, Events / History / Memory" – curated by: Gordana Kaljalovic – MUSEUM MACURA / N.Banovci, Belgrade, RS.
2013. "DUPLEX#4" – Dragan Zdravkovic (RS) / Alban Hajdinaj (AL) – "Parobrod" Cultural Center of the municipality of Stari Grad / Belgrade (Beograd), RS.
2013. "Global Print" – Lamego Museum, Lamego & Douro Museum, Peso da Regua, Portugal.
2013. "Metaphysical Pop Art – An Option on Contemporary Art" – paintings – White8 GALLERY, Vienna (Wien), AT. (solo exhibition)
2013. "Neon Lights" – paintings – White8 SHOWROOMS, Villach, AT. (solo exhibition)
2013. "Summer Presentation In The White8"- White8 SHOWROOMS – Miye Lee (KR), Georg Eger (AT) & Dragan Zdravkovic (RS), Villach, AT.
2012. ART.FAIR | Cologne, White8 GALLERY – Vienna – presents: Chuck Close (USA), Catarina Lira Pereira (FR) & Dragan Zdravkovic (RS), Cologne (Köln), DE.
2012. Open Studio's Night – Belgrade, Gallery Eurocentar, Belgrade, RS.
2012. Paintings – Art Space Connex / curated by: Salve Art Gallery, Leipzig, DE.
2011. Paintings – Gallery of the Cultural Centre of Novi Sad, RS. (solo exhibition)
2011. Paintings – LIA – Leipzig International Art Programme /Gallery Tour/, Spinnerei, Leipzig DE. (solo exhibition)
2011. "Easy Like Sunday Morning" – Paintings – Art Gallery Leipzig, DE. (solo exhibition)
2011. LIA – Summer Exhibition, Spinnerei, Leipzig / by LIA – Leipzig International Art Programme, DE.
2009. Paintings – Gallery ULUS – Belgrade, RS. (solo exhibition)
2008. "Inequality" – Paintings – Gallery of Contemporary Art – Pancevo, RS. (solo exhibition)
2007. "Spazio per l'arte 2"(Space for Artwork II), an art-project which is made at 52.Venice Biennial (La Biennale di Venezia), Gallery O3ONE, Belgrade (solo exhibition)
2006. "Gazdinstvo" – Paintings – Gallery 73, Belgrade, RS. (solo exhibition)
2006. Exposição/Espólio – Galerie Árvore, Porto, Portugal
2006. Exposição/Espólio – Bienal Internacional de Gravura do Douro (Alijó) – Salão Nobre da Casa do Douro, Régua, Portugal
2006. Exposição/Espólio – Museum of Vila Real, Vila Real, Portugal
2005. "Spazio per l'arte" (Space for Artwork), an art-project which is made at 51.Venice Biennial (La Biennale di Venezia), Gallery O3ONE, Belgrade (solo exhibition)
2005. "New Age Matches", ambient installation, Outsideproject, Studio Art Centers International, Florence, Italy
2005. Etchings, Exhibition of commissioners, 3 rd International Engraving Biennial – Douro, Portugal
2005. "30+/ Ultimate Transforming Lift Art" , Gallery of International Cultural Center, (YUBIN) Belgrade, RS.
2004. Drawings, City Gallery, Paracin, Serbia (solo exhibition)
2004. Paintings, Exhibition of group "Mosaic", Gallery of the Diplomatic Club, Belgrade, RS.
2003. Paintings – Gallery of the National Museum, Vranje, RS. (solo exhibition)
2003. "Process of Renovation" Dynamic Ready-made installation, Gallery of Belgrade Cultural Center, RS. (solo project)
2003. Scenery design for theater performance "LOVE", Bitef Theatre, Belgrade
2003. Etchings, 2a Bienal International de Gravura – Douro", Portugal
2002. Paintings (Pitture), Gallery ARTeUTILe, Trapani, Italy (solo exhibition)
2002. ART-BOX, ambient installation of digital works and photographs, Kalemegdan Fortress, Belgrade (solo exhibition)
2002. "Serbian Painting in the World of Internet Communications", Art Pavilion Cvijeta Zuzoric, Belgrade, RS.
2002. Paintings and Drawings, Gallery of Belgrade Cultural Center
2001. Paintings and Drawings, Canadian Embassy, Belgrade
1999. Paintings, Art salon of the Greek-Serbian Society, Belgrade
1999. IV Biennial of drawing and sculpture, Art Pavilion Cvijeta Zuzoric, Belgrade
1997. "The Ghost"- Drawings, Gallery NUBS, Belgrade (solo exhibition)
1997. Portrait in Time, Gallery NUBS, Belgrade
1996. Paintings, Museum of the city of Mladenovac , Serbia
1996. "Art for Four Hands", Gallery of the Belgrade Cultural Center
1996. New Members of the Serbian Artists Union, Art Pavilion Cvijeta Zuzoric, Belgrade
1995. "Flight", National Museum of the city of Valjevo, Serbia
1994. Paintings and Drawings, Belgrade Cultural Center (solo exhibition)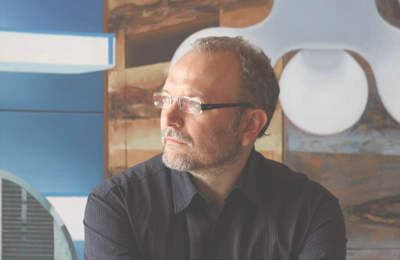 Dragan Zdravkovic (photo by:Tamar Botchorishvili)